…is intentional clustered private dwellings with shared facilities and neighbourhood life.
Created and run by residents cohousing reduces isolation, and the physical design, and shared resources offer a radically lighter eco footprint. Read more….
Well-established in Europe and the US; here, the sustained success of Auckland's Earthsong has inspired a new wave of diverse projects across NZ: urban to rural, compact to spacious.
Update Me
Featured
Peterborough Pocket Neighbourhood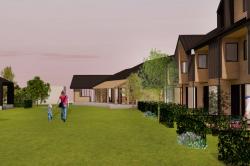 Already 37 years old, this cooperative is rebuilding in the aftermath of the Christchurch Earthquake, with opportunities for new members to buy in.
Events
CoHoHui, Wellington 12th February. Save that date! And stay tuned to cohousing.org.nz for more details.
The Next Earthsong Public Tour will be in November - starting 10am, no reservation necessary: FInd out more.